Kiss My Keto - Keto Gummies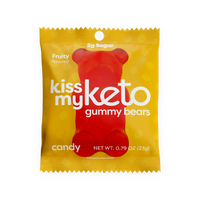 What if you could eat candy without all the consequences? Now you can with these plant-based and guilt-free gummies! They're packed with flavor but only contain 2g net carbs for a tasty treat you can eat anytime.
A super convenient snack for busy days.
Tired of trying to find a suitable keto snack? Take these mess-free packs with you on the go and enjoy them wherever! Avoiding unhealthy temptations has never been easier.
Filling and pre-portioned for easy calorie control.
These high-fiber gummies will help put hunger to bed and keep you satiated. Plus, each pack is pre-portioned so you don't have to worry about overeating!
Made with compromise-free ingredients for guilt-free snacking.
No GMOs or artificial nonsense here - just all-natural ingredients that perfectly compliment a healthy keto diet. We've made zero compromises so you can feel great about every bite!